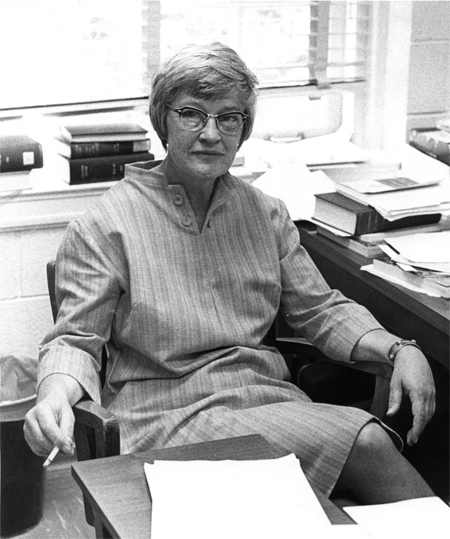 Dr. Elizabeth Phillips in her office in Trible Hall at Wake Forest University. I'm not sure when the photograph was taken, but this is how I remember her from my first class with her in the fall of 1975. Whatever I say here will be too little or too much or not quite right. I persevere in the saying because of the light Elizabeth Phillips shared with me, and shares with me still.
Dr. Phillips died last Tuesday night at the age of 89. Here is her obituary. Here is a news story about her death. (Edit: both links are now broken.) She was born the same year as my mother. As it happens, she died in the same hospital where my mother died almost nineteen years ago, Baptist Hospital in Winston-Salem, North Carolina.
Now I have lost two mothers, for Elizabeth Phillips was surely my intellectual and academic mother. To say that she inspired me to become an English major is to say far too little. Elizabeth inspired me to think that there was a place in school for someone like me, someone lost in wonder and and confused by his own relentless exuberance, someone who loved ideas but kept veering from the analytical to the figurative in his work, someone who had given up on the idea that studying literature in a classroom could be anything much to savor. She not only inspired me, she welcomed me, encouraged me, corrected me, and was my first and deepest lesson in what it means to be an intellectual.
I remember the room where I first heard her speak.  No one in my immediate family had been to college. I had no idea what to expect. After that class, I left the room feeling dizzy, giddy, elated, and not a little anxious, for everything had changed, and I knew I had to at least try to be answerable to that revelation.
Elizabeth Phillips always gave me the courage and desire to be answerable. She was an extraordinary teacher whose "pedagogy" consisted of intense thoughtfulness, challenging material, a willingness to let us witness how deeply the literature mattered to her.  I was asked recently if I had thought about just how Elizabeth Phillips worked her magic in the classroom. Of course I had thought about it. I think about little else when I try to do my best in the classroom. But how exactly had she done it? I had no complete answer. She read beautifully. She had a wonderful sense of humor: sometimes a line of poetry would begin with a throaty rumble and build to quavering glee. She was smart as a whip and curious about everything. She knew me by heart. She never once coddled me and never once turned me away. She introduced me to verbal art with a level of intense, total engagement that I had never known before and have rarely seen since. She trusted my instincts and taught me to trust them too. I took every course I could from her. Is that a methodology? I am skeptical it can be so reduced. All I can tell you is that of course Elizabeth Phillips brought the literature to life for us. But she also let us see how, and to what extent, and with what consequences, literature brought her to life for us. This without a whiff of the maudlin, the confessional, or any cloying insistence that she was "one of us." How could she be one of us? There was only one Elizabeth Phillips.
Once when my mother came to visit me, I asked her to come with me to Elizabeth Phillips' class. My mother and Dr. Phillips liked each other and asked about each other for the rest of my mother's shortened life (my mother died of leukemia in 1989 at the age of 69). Not everything about my college education strengthened my ties to my family, but Dr. Phillips could strengthen any bond, and the connection between these two mothers of mine filled me with hope for a future I'm still trying to work toward.
In memoriam, I offer five items. One is a tribute to Elizabeth I was privileged to contribute to a whole series of such tributes at a luncheon in her honor in May, 2007. Elizabeth was in the audience, so I take some comfort in knowing that she knew, as precisely as I could articulate it, how I felt about her and what she had meant to me. I share this tribute with you so that you will know it too.
Following the video, I have put up four lyrics from a set of poems my dear friend and college roommate Michael Thomas and I recorded Elizabeth reading in the summer of 2005. I am very grateful to Michael for arranging this occasion. These readings are extraordinary testimony to the depth and power of Elizabeth's poetic and critical sensibilities. I hope they give you at least some idea of what was so compelling about her, and what we have lost now she is gone from this earth.
The first poem is Edna St. Vincent Millay's "Dirge Without Music."
The second is Theodore Roetkhe's haunting villanelle "The Waking."
The third is a great poem about faith in the here-and-now, Marianne Moore's "What Are Years."
The fourth is the conclusion to Walt Whitman's "Song of Myself," and it will explain part of the conclusion of my tribute to Elizabeth.
Lux aeterna.
Podcast: Play in new window | Download (1.6MB)