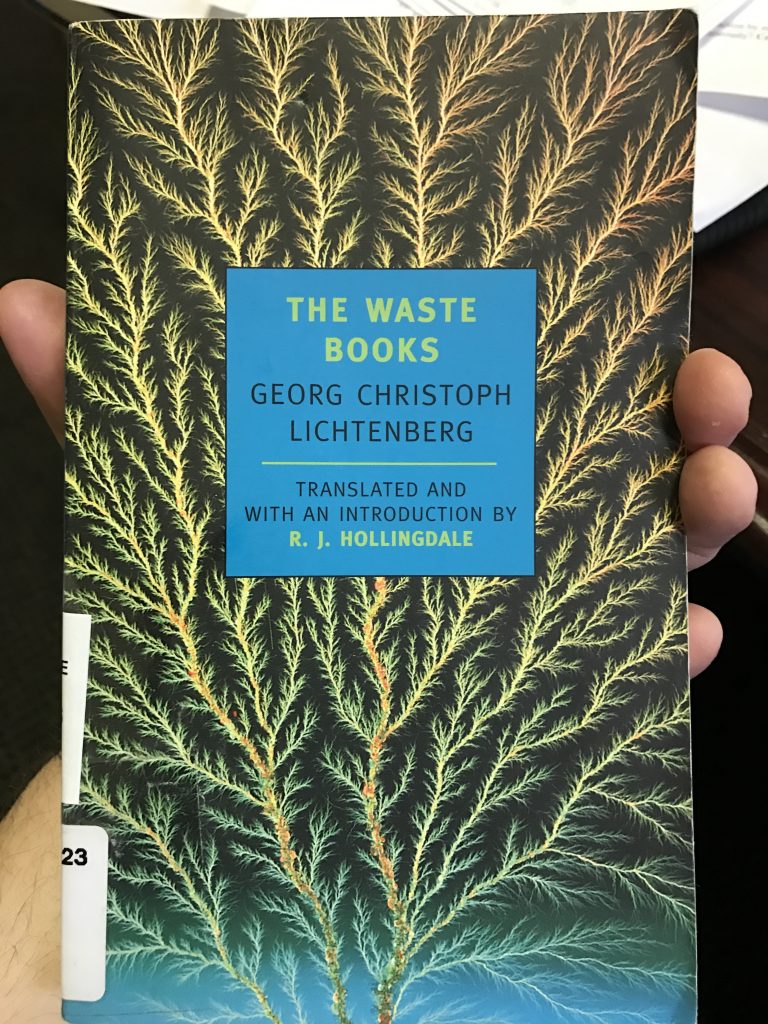 Gjertrud Schnackenberg's extraordinary and heartbreaking Heavenly Questions, in particular the section called "Sublimaze," has led me to a new author–new to me, anyway: Georg Christoph Lichtenberg. Much more to say about Lichtenberg, and the associative trail I followed when he appeared (not rhizomatic, and not predictable either), but no time to say it just now. Yet I do want to copy, and share, a Lichtenberg observation I read just last night in that lovely space just before sleep. It has made quite an impression on me. Perhaps you will find it illuminating, too.
From Notebook C, entry 26, in The Waste Books, translated and with an Introduction by R. J. Hollingdale (Penguin, 1990, rpt. New York Review Books, 2000), pp. 36-37:
Herrr Capitaine-Lieutenant von Hammerstein was much in favor of instruction with apparatus. The principal argument he always put forward was that it could only be a good thing to achieve one's objective as quickly as possible. That was virtually the only argument he had. But since the investigation of a subject, the effort involved in understanding it, is calculated to teach us to know it better from several sides and to attach it most readily to our system of thought, for people who have the ability a drawing is certainly to be preferred to a model. An increase in knowledge acquired too quickly and with too little participation on one's own part is not very fruitful: erudition can produce foliage without bearing fruit. There are a great many shallow heads who are astonishingly knowledgeable. What we have to discover for ourselves leaves behind in our mind a pathway that can also be used on another occasion.