As the "season of mists and mellow fruitfulness" comes to Virginia (home of the best autumns I know), the New Media Faculty-Staff Networked Development seminar coheres once more. This time the Network Information Center (or the Greenwich Observatory, choose your metaphor) is at Virginia Tech, my new professional home. The seminar here had a great first meeting last Wednesday. As we went around the horn and introduced ourselves, I was struck yet again by the depth and variety of the colleagues who make up a university. We are certainly a "city of intellect," as Clark Kerr calls the university, but richer–a city of intellectuals whose pursuits range from our respective scholarly disciplines to artisanal breads, improvisatory theater, and Jimi Hendrix blacklight posters. The shift from "intellect" to "intellectuals" is key, I think, to understanding the personhood that unites us, and to revealing the numbing, often overwhelming professional routines that prevent the "meeting soul" from becoming the "met friend." And last Wednesday, in the company of quirky, curious, spirited intellectuals, I began once again this journey toward the "resonance frequency" within the writings we will read together. My largest goal was articulated beautifully last fall by Paige Panter, whose passionate articulations were so crucial to the success of that extraordinary seminar at Baylor: "Contract the fervor of Nelson and learn the vision of Kay." Much of our time as intellectuals within the academy is devoted to critical analysis, as is meet and right. Yet there's also this elusive idea of the resonance frequency, of a set of beautiful ideas that make something like the music of the spheres, a shared lucid dream. I hope for that too: a lift from the weariness of detecting defects, an ascent at least into the possibility of ascent, the daring to hope so.
Our seminar's motherblog is up and running. This fall's other networked sites are also springing to life, their networks lighting up like framed windows in a city at twilight: Benedictine University (two campuses), the University of California at Berkeley, the University of Queensland (Australia), Houston Community College (two campuses), Baylor University, the University of Central Florida. The seminar syllabus is here,  the networked seminar directory here.
In that seminar directory you'll find a uniquely interesting network node, one that' s new this fall: the Second Life NMFS group, facilitated by Robin Heyden and Liz Dorland. Robin and Liz have quickly assembled an astonishing set of resources. I'm learning as fast as I can from their design, from the tenor and content of their communications, from the imagination and skill they've brought to the very difficult task of organizing an international group of participants within a virtual world that has its own significant learning curve to master before one even gets to the hard part of reading, discussing, and faithfully blogging the experience. Yet the marvelously recursive/immersive experience of listening for that resonance frequency within a constructed world of reified metaphor and metaphorical representation (and self-performance, self-revelation) is breathtaking in its implications. So is the makeup of their group: scholars and educators and writers from  Denmark, Florida, Georgia, Belgium, Texas, Missouri, Massachusetts, North Carolina, Indiana, California … others I couldn't quite pinpoint. The poetry of this node (I don't know what else to call it) speaks beautifully in this screenshot from their first meeting, on the NMC Campus in Second Life.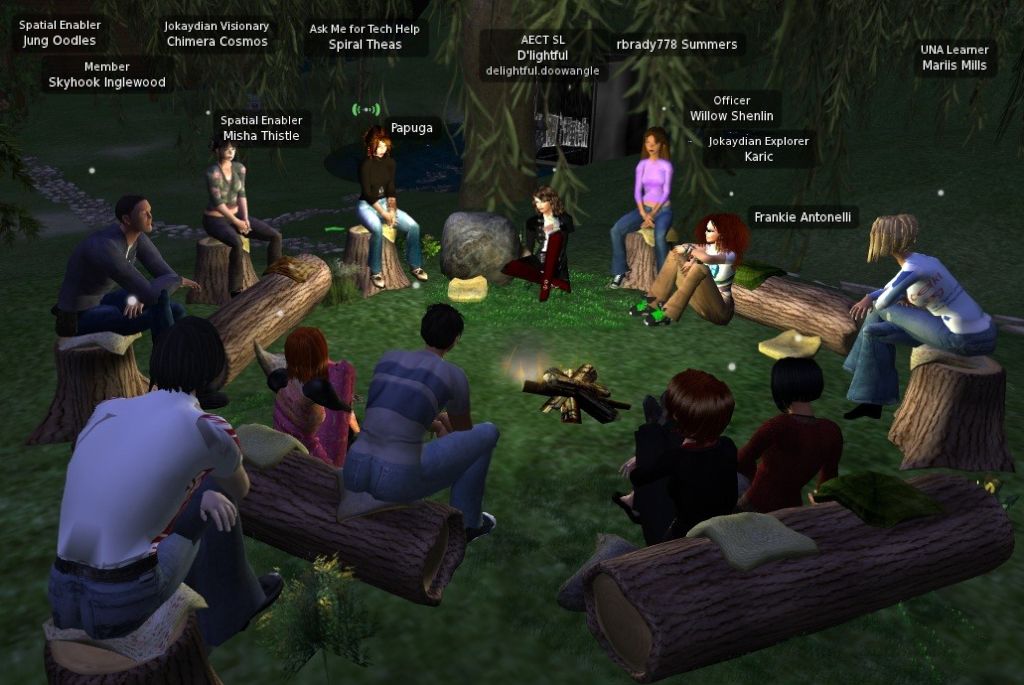 I look at that picture and I think of another stirring moment, a moment from one of my favorite episodes of Star Trek: The Next Generation: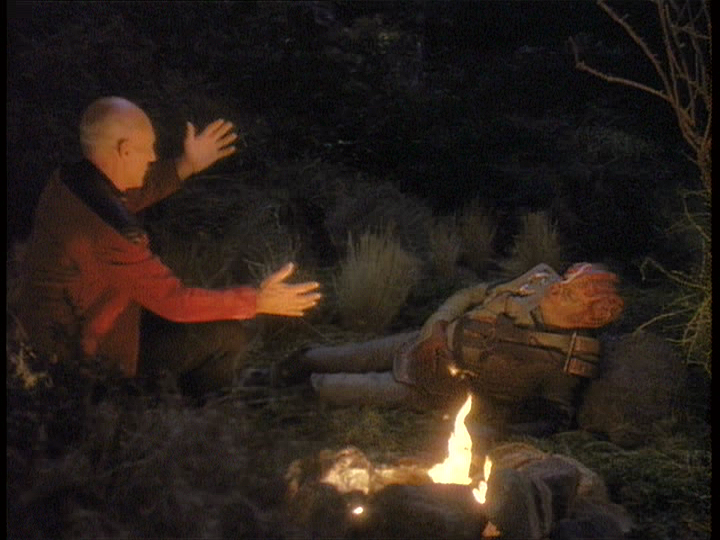 We tell the story of our journey and we tell it together, anchored in the fluidity of self and personhood, and buoyed by the stories that come before us and inform our making. Gilgamesh. Darmok and Jalad at Tanagra. Picard and Dathon at El-Adrel. Rob and Jill and Rebecca and Teggin and Diane and Yanna and Tim and Justin and Shelli and Ann and Brian and Jesus and Lazlo and Jennifer and Tyler and Gardner at Virginia Tech. Our arms, wide.
EDIT: My thanks to Alice for alerting me to my mistaken interpretation of the Tamarian expression "when the walls fell."