I continue to think about what we mean by a "degree." Or rather, I think about what a degree might or should mean, and what we in higher ed increasingly act as if it means, and how that disjunction (if it is one, which I think it is) plays out across our practices, our assumptions, our mission statements, and our civic life. (I'm sure I've left out several crucial areas there.)
My thoughts are spurred by a conversation I had several days ago with a colleague who wanted to know what kind of certificate we might offer as an incentive for open participants to complete a cMOOC. I started thinking about the difference between a certificate and a credential. I talked about credentials many years ago in a presentation I podcast here. At the time, though, I simply urged we recall the root meaning of credential, a word that derives from credence, the mark of believability and the grounds for trust we stipulate as a result of some experience or, perhaps, a formation of character we have collectively witnessed.
I didn't then have the contrast, though, that would drive the point home. I think now the contrast is between "credential," a condition of being, and "certificate," something that is not of a person so much as about some specific competency the person has demonstrated. I grant that I am skeptical of any education that focuses narrowly on "competency," as if skills could be divorced from contexts, or ideas, or personhood. I grant that my skepticism may lead me to exaggerate the distinction I'm trying to make. Yet the distinction may prove useful in articulating how two views might diverge, an what the consequences might be.
Incorrigible and largely unrepentant English professor that I am, I went on an etymology hunt. R. W. Emerson observed that language is fossil poetry, so it was time for some paleontology. I usually go to the Oxford English Dictionary for my etymologies, for there I will also find a useful set of historical definitions that help chart how early usage changes over time. Tonight, though, I had only my iPad with me at dinner. (I try to travel lighter at conferences when possible–I'm writing this post from the annual meeting of the AAC&U.) I have long known how to use Google to define a word: simply type in the search box "define x" (without quotation marks and with a word where the x goes, of course), and away you go. On a lark, and because Google is always introducing cool new things on the sly (aside from tracking its users, that is), I typed "etymology credential" — and here's what came up!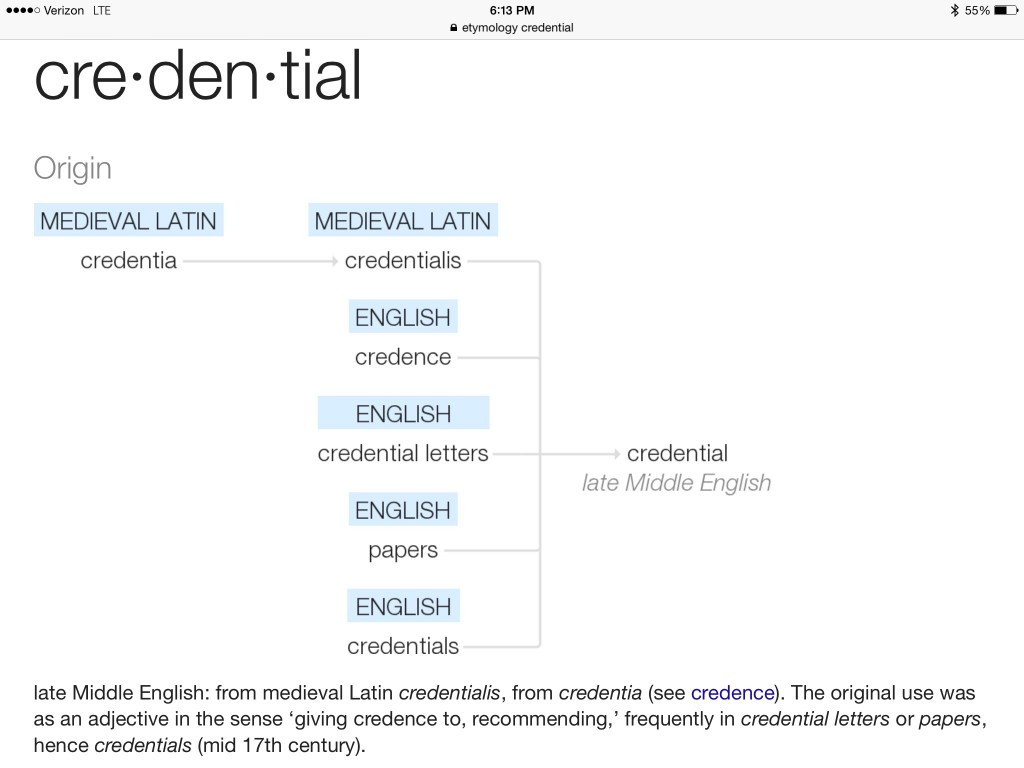 Ah. The word was first an adjective, and only later became a noun. First a descriptor, then the thing it described. Alas, the thing described, a credential document, seems to have skipped the possible middle sense of a quality or virtue. Instead, a credential, a trustworthiness or recommendation, is typically reduced to that piece of paper we call a diploma–in other words, a certificate.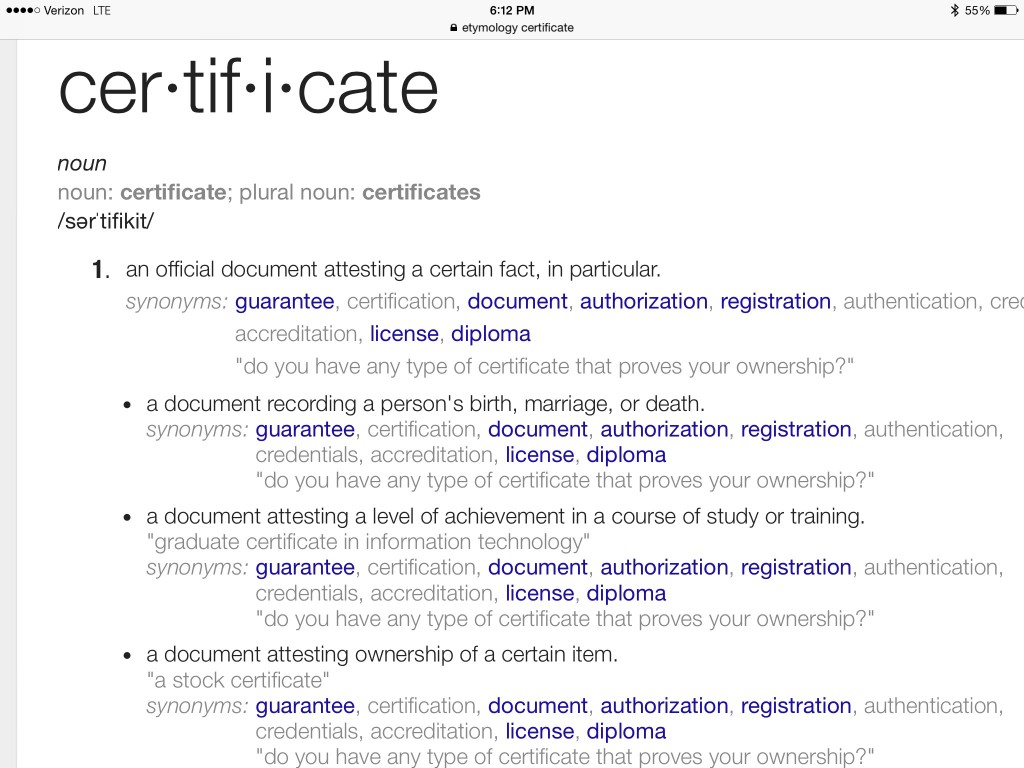 As "credential" moves toward "certficate," "recommendation" becomes "document," indeed an "official document" attesting to facts, records, achievements, ownership. I'm not arguing that facts, records, achielvement, and ownership are unimportant. Not at all. They're vital. But taken outside the context of trust, of personhood, of recommendation, credentials edge toward a kind of "guarantee," or a license. Something transformative becomes  instead flat and transactional. Get a certificate, get a raise, get a job. Yes, and those are important, But what of the person?
I continue to mull these things over. A small shift in meaning may lead to a large and potentially regrettable shift in civic and cultural practice. I am especially struck by this possibility in the aftermath of the challenging and fascinating opening forum tonight at the AAC&U meeting.
And I think of the words we say at our higher education commencement ceremonies when it comes time to award to–or is it confer upon?–our students their degrees: we deans present our degree candidates to the President, and say that we are doing so upon the "recommendation of the faculty." In that moment, deep within that phrase and yet still visible if one knows to look, we may still find what is most valuable about a truly credential education.